Online Recovery Resources
Here is a collection of online resources to help support your recovery journey. Whether professional advice, guidance and inspiration from those who have been through it, or inspiring social media accounts by individuals working to counter diet culture and the mainstream beauty ideal, I hope you will find something inspiring and helpful here.
If you have any favourites that I have missed, I would love to know about them so I can add them to this page!
Free Yoga for Recovery (online & anonymous)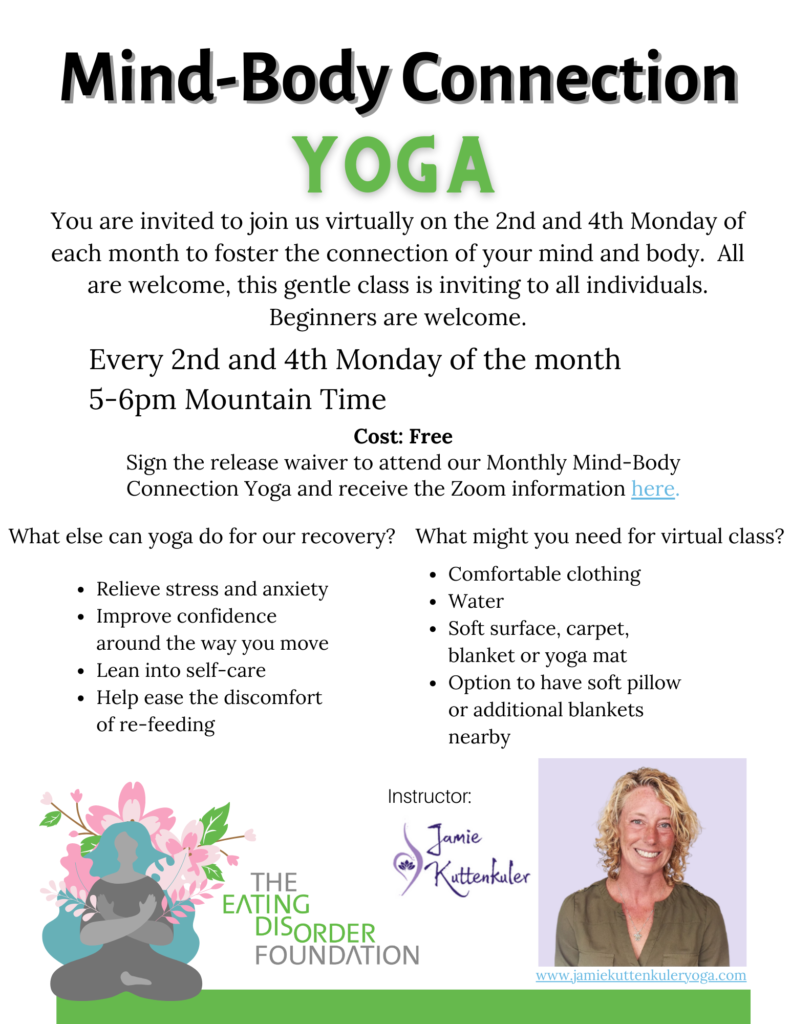 The Eating Disorder Foundation with Jamie Kuttenkuler
Led by our wonderful coach Jamie Kuttenkuler, this online yoga class is perfect for anyone, including beginners to yoga, and focuses on the mind-body connection.
Participants keep their videos turned off and do not need to use their real names so it's completely private and anonymous.
It takes place on the 2nd and 4th Monday of every month from 5-6pm Mountain Time. Please see the poster and click through to The Eating Disorder Foundation website for more details and to register.
Informational Websites & Helplines
Body Positive & Fat Positive Instagram Accounts
Eating Disorder Recovery + Anti-Diet Culture Instagram Accounts
For Males Specifically
Males may feel like it's hard to find resources and literature that take into account their differing needs and experiences from those of females. Eating disorders are often still viewed as a female issue despite the fact that so many males suffer, even if at lower rates than females (at least according to what is reported).
According to The National Eating Disorders Association, males have a lifetime prevalence of .3% for anorexia nervosa, .5% for bulimia nervosa  and 2% for binge eating disorder. These figures correspond to males representing 25% of individuals with anorexia and bulimia and 36% of those with binge eating disorder. Moreover, subclinical eating disordered behaviors (including binge eating, purging, laxative abuse and fasting for weight loss) are nearly as common among males as they are among females.
Below are some male-specific eating disorder resources. If you know of any others that you like, please let me know! I would love to include them on this page.
Male Body Positive Instagram Accounts
For Family Members & Loved Ones
For books and other online resources for family members and loved ones of someone struggling with an eating disorder or disordered eating, I have gathered recommendations into a blog post here.
Books
For a list of books on eating disorder recovery, personal growth, self-help and other related topics that I have loved personally or have heard great things about, please visit my Books Page.