Resources for Recovery
Here is a collection of resources to help support your recovery journey. Whether professional advice, guidance and inspiration from those who have been through it, or inspiring social media accounts by individuals working to counter diet culture and the mainstream beauty ideal, I hope you will find something inspiring and helpful here.
If you have any favourites that I have missed, I would love to know about them so I can add them to this page!
Free Yoga for Recovery (online & anonymous)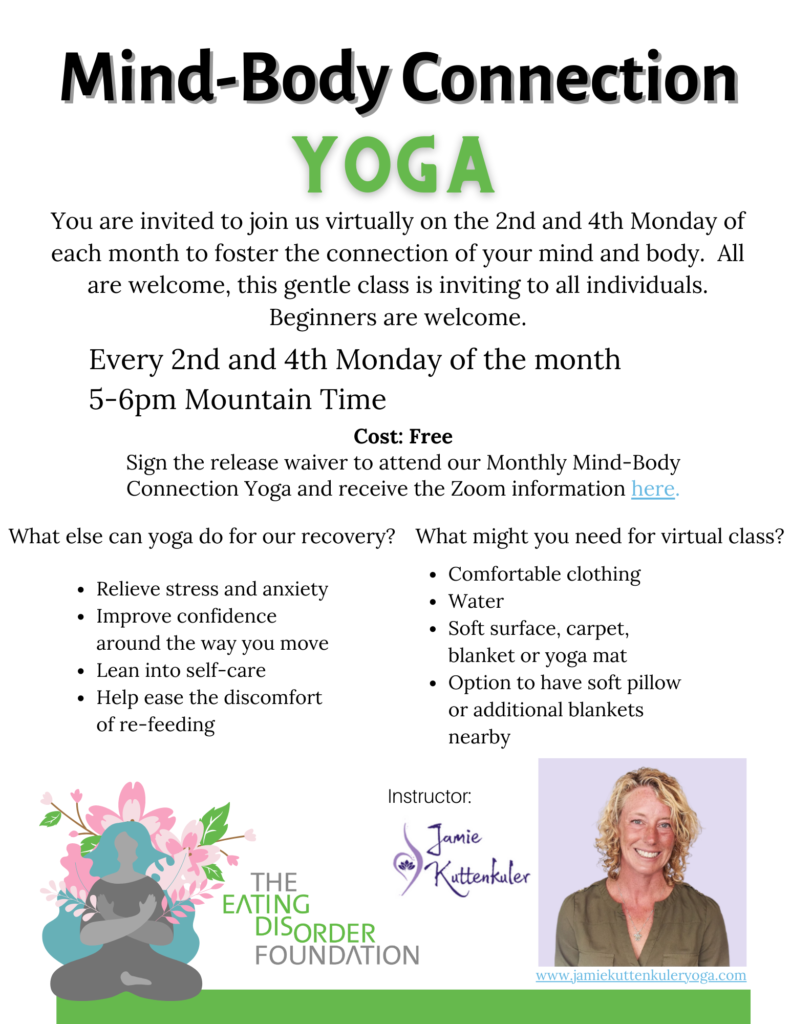 The Eating Disorder Foundation with Jamie Kuttenkuler
Led by our wonderful coach Jamie Kuttenkuler, this online yoga class is perfect for anyone, including beginners to yoga, and focuses on the mind-body connection.
Participants keep their videos turned off and do not need to use their real names so it's completely private and anonymous.
It takes place on the 2nd and 4th Monday of every month from 5-6pm Mountain Time. Please see the poster and click through to The Eating Disorder Foundation website for more details and to register.
Informational Websites, Helplines & Online Resources
Podcasts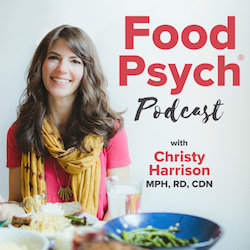 Food Psych Podcast
With Christy Harrison MPH, RD, CDN
"A weekly show dedicated to helping you make peace with food and break free from diet culture. In each episode, I talk with inspiring guests - including health and psychology professionals, anti-diet activists, and leaders in the body-positive movement - about their relationships with food, journeys to body image healing and fat acceptance, and experiences of recovery from weight stigma and eating disorders. This podcast calls out diet culture for the life thief that it is, and challenges it in all its sneaky forms - including the restrictive behaviors that often masquerade as wellness and fitness."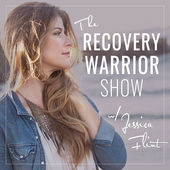 The Recovery Warrior Show
With Jessica Flint
"Motivation and inspiration for your journey to recovery from an eating disorder. Host Jessica Flint interviews recovery warriors and treatment professionals from around the world to get their unique perspective and advice on what it takes to heal your relationship to food and body. This show is for all types of eating disorders: anorexia, bulimia, binge eating, and disordered eating."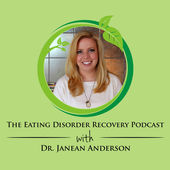 The Eating Disorder Recovery Podcast
With Dr. Janean Anderson
"The Eating Disorder Recovery Podcast is a show about the recovery process from eating disorders including anorexia, bulimia, binge eating, as well as disordered eating, emotional eating, dieting, and exercise addiction. The show is for anyone who would like to learn more about the psychology of eating disorders, make peace with food, improve their body image, and live authentically. The podcast explores how eating disorders work psychologically, what the recovery process looks like, and the cultural context of eating disorders. The show blends solo episodes with the host, Dr. Janean Anderson, and experts in the field including authors, speakers, dietitians, and treatment professionals."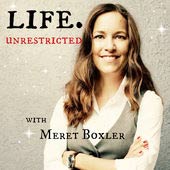 Life. Unrestricted. Podcast
With Meret Boxler
"When is enough enough? If you are tired of hating your body, tired of counting calories, tired of feeling guilty for eating, tired of exercising obsessively, tired of negative self-talk, tired of living by other people's rules? Welcome home. Welcome to the Life. Unrestricted. Podcast. Meret Boxler is a journalist and recovering exercise addict and lifetime dieter who found that "successfully keeping her weight down for 22 years" came at a high price: her health. She is talking to inspiring guests and experts who share their stories as well as their advice to help you on your journey from body negativity, disordered eating an unhealthy relationship to fitness and exercise to a more balanced approach to health, inner peace and self-acceptance."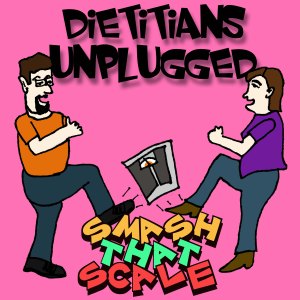 Dietitians Unplugged
With Aaron Flores, RD and Glenys Oyston, RD
"Welcome to the Dietitians Unplugged Podcast with Aaron Flores and Glenys Oyston.  Join us as we explore the idea of health and wellness from a new perspective. Each episode we will discuss topics that we hope to help you improve your health, body image and fitness without obsessing on the scale or counting calories.  We believe in Health at Every Size®, Intuitive Eating, and body positivity and we want to help you build the confidence to ditch the scale, and embrace your health without shaming your body."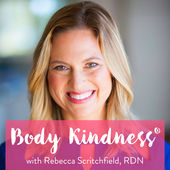 Body Kindness
With Rebecca Scritchfield, HAES Dietitian Nutritionist, Certified Exercise Physiologist, Well-Being & Body Image Advocate, Author
"This is not a weight loss show. This is about redefining what it means to pursue health, where your well-being matters more than your weight. When you practice Body Kindness®, you create a more satisfying life by being good to yourself. Learn how self-compassion and acceptance help you cultivate a "caregiver" voice and quiet the "inner critic". Rebecca Scritchfield and her guests have interesting conversations about the cultural influences that keep you stuck in "diet prison" and how to break free to create meaningful changes in your life. Instead of dieting, you'll practice self-care, including sleep, sex, having fun, and more!"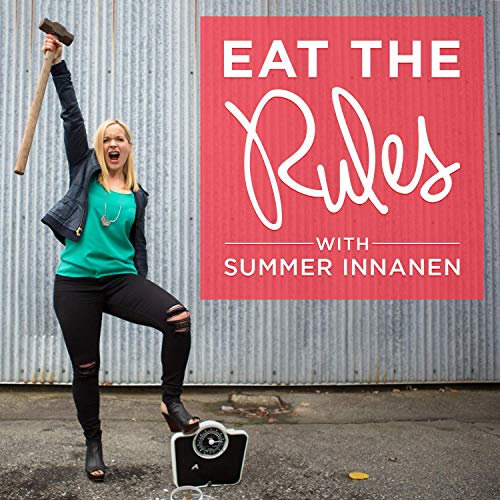 Eat the Rules
With Summer Innanen
"Eat the Rules is dedicated to empowering you to break free of societal standards, body shame and live life beyond the scale. Summer interviews the leading experts in body image, the anti-diet movement, self-help and intersectional feminism, covering a range of topics that include: body positivity, size acceptance, fat positivity, self-worth, self-esteem, intuitive eating and eating disorder recovery, health at every size and positive psychology. Summer also gives practical advice and shares personal experiences to help you accept your body and break free of diet culture. Summer Innanen is a professionally trained coach specializing in body image, self-worth and confidence and is the best-selling author of Body Image Remix."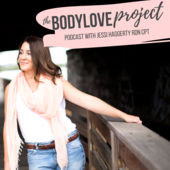 The BodyLove Project
With Jessi Haggerti, RDN, CPT
"Welcome to The BodyLove Studio Podcast, I'm Jessi Haggerty a Registered Dietitian and Personal Trainer living in Boston and, your host! Each episode we'll dive into a different topic where we dig deep to develop a healthier relationship with your diet and body. In a nutshell, this podcast is about loving your body. Whether it means learning how to nourish your body with food, movement, meditation, or positive self talk; my hope is to help listeners take one step closer to mending their relationship with food and their body, so they can show up for the parts of their life that matter most."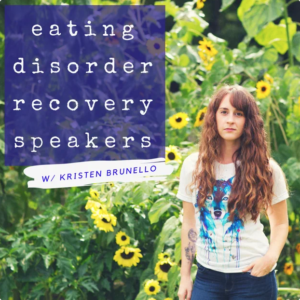 Eating Disorder Recovery Speakers 
With Kristen Brunello, Recovery Coach
"Imagine your eating disorder only taking up 30% of your headspace. Imagine it taking up none. Life can get better. You can feel better. Hope and inspiration brought to you weekly by powerful recovery speakers. When Kristen got out of eating disorder residential treatment for the last time, she noticed a major gap in her care: among her treatment team there was no one saying, "I've been there. I get it. My life without my eating disorder is so full. Let me help you get there too." As an eating disorder recovery coach, Kristen hopes to fill that gap. The Eating Disorder Recovery Speakers podcast is a platform for people to share their stories of eating disorder recovery."
You can listen to my episodes on Kristen's podcast here (my story) and here (our conversation).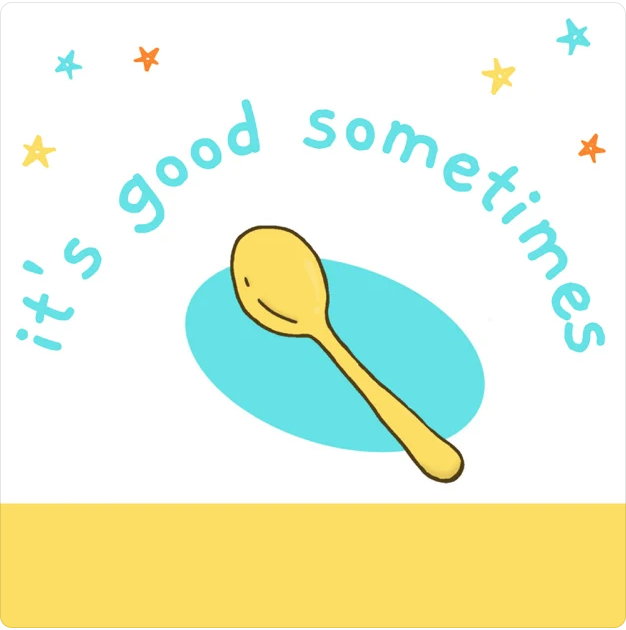 It's Good Sometimes 
With Tammy Frederickson, RD and Lerin Oystryk, RD
For any parents or caregivers out there who want to give the children in their care the best start in terms of their relationship with food, this is a wonderful podcast by two of my dear friends and colleagues who are registered dietitians specializing in family feeding as well as eating disorders and disordered eating. Podcast description: "Welcome to It's Good Sometimes: a podcast for busy people who feed kids. We are Tammy and Lerin, Registered Dietitians, moms, and co-founders of On Solid Ground Nutrition. In this space we answer questions from and talk with people who, like you, are navigating the challenges that come with feeding kids. From power struggles and "picky" eaters, to building positive relationships with food and eating, we've got you covered."
Body Positive & Fat Positive Instagram Accounts
Eating Disorder Recovery + Anti-Diet Culture Instagram Accounts
For Males Specifically
Males may feel like it's hard to find resources and literature that take into account their differing needs and experiences from those of females. Eating disorders are often still viewed as a female issue despite the fact that so many males suffer, even if at lower rates than females (at least according to what is reported).
According to The National Eating Disorders Association, males have a lifetime prevalence of .3% for anorexia nervosa, .5% for bulimia nervosa  and 2% for binge eating disorder. These figures correspond to males representing 25% of individuals with anorexia and bulimia and 36% of those with binge eating disorder. Moreover, subclinical eating disordered behaviors (including binge eating, purging, laxative abuse and fasting for weight loss) are nearly as common among males as they are among females.
Below are some male-specific eating disorder resources. If you know of any others that you like, please let me know! I would love to include them on this page.
Male Body Positive Instagram Accounts
For Family Members & Loved Ones
For books and other online resources for family members and loved ones of someone struggling with an eating disorder or disordered eating, I have gathered recommendations into a blog post here.
Books
For a list of books on eating disorder recovery, personal growth, self-help and other related topics that I have loved personally or have heard great things about, please visit my Books Page.